About Our School
Welcome to Krav Maga Illinois! We are proud to be an Official Krav Maga Worldwide Training Center. Established in 2009, Krav Maga Illinois is a female owned business featuring authentic Krav Maga Reality Self Defense and Awareness training for adults and children ages 10+. In addition to our civilian program, we also offer a Force Training class for Law Enforcement and Military personnel, taught by a highly decorated Chicago Police Officer, and officially certified Krav Maga Force training instructor. Krav Maga Illinois is also a registered USA boxing gym with an outstanding Boxing program for enthusiasts as well as competitive fighters. Fitness is a by product of Krav Maga Training as we will strengthen your entire body in order to survive a violent attack. Let our officially certified Krav Maga instructors teach you how to PROTECT YOURSELF AND YOUR FAMILY. Change your life today, with Krav Maga Training, our Instructors will show you how.
WE ARE CONVENIENTLY LOCATED IN CHICAGO
Instructor/Owner Sue Garstki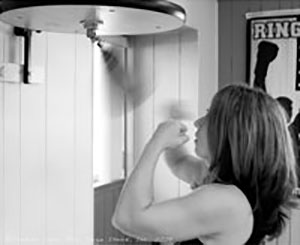 Sue Garstki is a certified Expert Level Kravmaga Worldwide Instructor. She traveled to the Kravmaga Worldwide National Headquarters in Los Angeles, and was certified as an instructor by the best Krav Maga instructors in the world. She is presently the highest level female Krav Maga Instructor in the midwest. Enjoying and believing so much in the simplicity and ferocity of the Israeli Reality Self Defense systems, she traveled to Florida to train under Mike Kanarek and was certified as a Haganah/F.I.G.H.T. instructor. Sue most recently worked with Moni Aizik at an instructor certification here in Illinois and has become one of only two female Commando Krav Maga instructors in the Midwest. She is also a Level 4 instructor in the Raven Method Close Quarter Defensive Tactics System, having had the honor of working with the Chicago Guardian Angels. This year, Sue was nominated Female Reality Self Defense Instructor of the Year by the Global Network of Reality Based Self Defense Systems. In 2012 she was nominated Civilian Close Quarter Combat Instructor of the Year. Sue works with the Chicago Police Department as well as schools and other organizations spreading awareness in Self Defense, Women's Self Defense and Domestic Violence issues. In June 2013 Sue was inducted into the U.S.A. Martial Arts Hall of Fame, and again in 2015, where she was named Krav Maga Expert of the Year.
Sue has over 35 years of teaching experience and is a 2nd degree black belt in Shorei Goju Karate. She was also certified under NDEITA to be a personal trainer and was one of the first instructors to be certified to teach the National Associations of Professional Martial Artists (NAPMA) Kardio Karate program. She is the founder of the Women's Martial Arts Alliance, member of the National Women's Martial Arts Federation, and the American Women's Self-Defense Association.
Sue has consistently trained in many different arts including Jiu Jitsu, Boxing, Muay Thai, Kickboxing, Taekwondo, Arnis, Jeet Kun Do, Pressure Point Fighting (member of The Dragon Society) Israeli Tactical Knife, Aikido, Capoeira and weapons defenses to name a few. She is also a personal trainer specializing in, self defense, stamina, strength training, endurance, and fight preparation.
Why Choose Krav Maga Illinois?
Violence in our community is not going away any time soon. Get the tools needed to GET HOME SAFE
Everyone deserves quality self defense training. Whether you are an athlete or non-athlete, Krav Maga training is for you. No experience is necessary. All classes are one hour long led by instructors who have been officially certified through Krav Maga Worldwide. In each class you will learn combatives, punches, kicks, knees, elbows, along with self defense techniques against common chokes and grabs. Reaction, response and awareness are also components of each class. What are you waiting for?
Let our Instructors teach you how to protect yourself and your family
Krav Maga training will prepare you for the worst, while increasing your stamina, strength and self confidence. W strengthen your entire body in order to survive a violent entounter. Krav Maga training is for everyone, it is another form of life insurance. Don't Let Self Defense be an afterthought!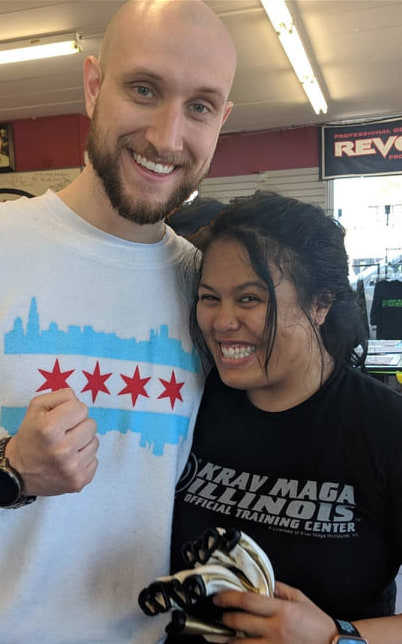 LISTEN TO WHAT OUR HAPPY STUDENTS ARE SAYING
My daughter who is 10 joined Krav Maga Illinois (KMI). About 2 months ago. KMI offered a one day trial and in the 1st 10mins my daughter decided it was not for her. Frustrated as a parent and running out of activities to introduce to my 10 year old is running its course. Knowing how important it is in today's society (which is unfortunate) people have to learn how to defend themselves. Fast forward to the trial day, I told her to finish the trial and we can later discuss why she did not want to continue. She agreed and got back in. I watched as her instructor, who in my eyes thought that there were too many students in the class, was able to teach techniques and dedicate a one on one with each student who's form needed to be tweaked to achieve proper techniques to defend and strike, was quite amazing. These kids as well as my daughter, who was new to the class, was picking up the movements, the blocks, and the strikes. Class was over and as I walked over to my daughter who was sweaty, was expecting her to say can we go now. Instead, she said she was ecstatic and wanted to come back! So after speaking with the manager Ashley, who was awesome and gave us a tour and explained the program prior to the trial, I explained that I was going to give it a couple of days and talk to my daughter about joining. Long story, short-my daughter is in her third month with classes offered twice a week for kids. My daughter's eagerness to go to both classes is something I thought would never happen.
Sue, the owner often teaches the class is pretty awesome, all of the instructors are but what's refreshing is that Sue, when she teaches-she doesn't just go through the motions. She is teaching technique and making the students put in the work! I stay and watch the class and I've seen the progression my daughter has made since starting.
This place is not just for kids. They offer classes to adults. The adult classes are before the kids class. We get there 10 minutes before my daughters class. I watch the adults and they are also putting in the work everyone of them are in a full flop sweat and breathing heavy. Would love to join but a pre existing injury will never allow me. Sadness! As my daughter says.
Give this place a shot, you can't beat they give you 1 free class-you won't be disappointed!
Best Krav Maga school in the Chicagoland area. High level and certified instructors that have years of experience. Taking classes here gave me confidence, strength and self-defense knowledge and skills.
Krav maga Illinois was beyond what I expected. The facility is very clean the people are kind and helpful. The instructions had a great passion to teach. I love it! Thank you for everything! 🙂
Like Us! Let Everyone Know!