About Our School
Welcome to Krav Maga Illinois! We are proud to be an Official Krav Maga Worldwide Training Center, and Registered USA Boxing Gym. Established in 2009, Krav Maga Illinois is a female/locally owned business featuring authentic Krav Maga Reality Self Defense and Awareness training for adults and children ages 10+. In addition to our life changing Krav Maga program, we also offer an outstanding Boxing program taught by Official USA Boxing Coaches. Our boxing program is for enthusiasts as well as competitive fighters. Fitness is a by product of Krav Maga Training as we will strengthen your entire body in order to survive a violent attack. Let our officially certified Krav Maga instructors teach you how to PROTECT YOURSELF AND YOUR FAMILY while getting in the best shape of your life. Change your life today, with Krav Maga Training, Krav Maga Illinois will show you how.
WE ARE CONVENIENTLY LOCATED IN CHICAGO
Instructor/Owner Sue Garstki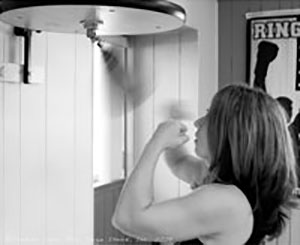 Sue Garstki is a certified Expert Level Kravmaga Worldwide Instructor. She traveled to the Kravmaga Worldwide National Headquarters in Los Angeles, and was certified as an instructor by the best Krav Maga instructors in the world. She is presently the highest level female Krav Maga Instructor in the midwest. Enjoying and believing so much in the simplicity and ferocity of the Israeli Reality Self Defense systems, she traveled to Florida to train under Mike Kanarek and was certified as a Haganah/F.I.G.H.T. instructor. Sue most recently worked with Moni Aizik at an instructor certification here in Illinois and has become one of only two female Commando Krav Maga instructors in the Midwest. She is also a Level 4 instructor in the Raven Method Close Quarter Defensive Tactics System, having had the honor of working with the Chicago Guardian Angels. This year, Sue was nominated Female Reality Self Defense Instructor of the Year by the Global Network of Reality Based Self Defense Systems. In 2012 she was nominated Civilian Close Quarter Combat Instructor of the Year. Sue works with the Chicago Police Department as well as schools and other organizations spreading awareness in Self Defense, Women's Self Defense and Domestic Violence issues. In June, 2013, Sue was inducted into the U.S.A. Martial Arts Hall of Fame, and again in 2015, and 2017, where she was named Krav Maga Expert of the Year.
Sue has over 40 years of teaching experience, is an Official USA Boxing Coach, and a 2nd degree black belt in Shorei Goju Karate. She was also certified under NDEITA to be a personal trainer and was one of the first instructors to be certified to teach the National Associations of Professional Martial Artists (NAPMA) Kardio Karate program. She is the founder of the Women's Martial Arts Alliance, member of the National Women's Martial Arts Federation, and the American Women's Self-Defense Association.
Sue has consistently trained in many different arts including Jiu Jitsu, Boxing, Muay Thai, Kickboxing, Taekwondo, Arnis, Jeet Kun Do, Pressure Point Fighting (member of The Dragon Society) Israeli Tactical Knife, Aikido, Capoeira and weapons defenses to name a few. She is also a personal trainer specializing in, self defense, stamina, strength training, endurance, and fight preparation.
Why Choose Krav Maga Illinois?
Violence in our community is not going away any time soon. Get the tools needed to GET HOME SAFE
Everyone deserves quality self defense training. Whether you are an athlete or non-athlete, Krav Maga training is for you. No experience is necessary. All classes are one hour long led by instructors who have been officially certified through Krav Maga Worldwide. In each class you will learn combatives, punches, kicks, knees, elbows, along with self defense techniques against common chokes and grabs. Reaction, response and awareness are also components of each class. What are you waiting for?
Let our Instructors teach you how to protect yourself and your family
Krav Maga training will prepare you for the worst, while increasing your stamina, strength and self confidence. We strengthen your entire body in order to survive a violent encounter. Krav Maga training is for everyone, it is another form of life insurance. Don't Let Self Defense be an afterthought!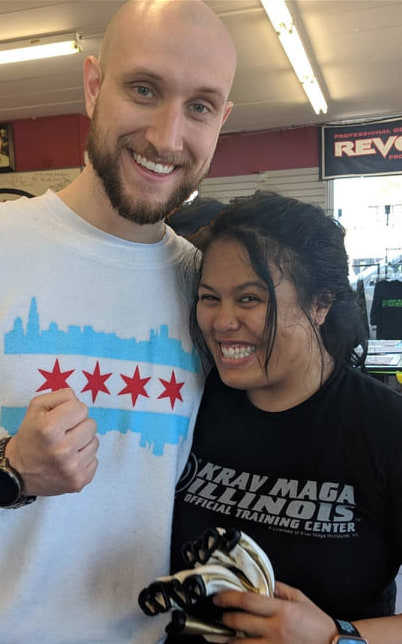 LISTEN TO WHAT OUR HAPPY STUDENTS ARE SAYING
For me, this is serious stuff: learning self-defense skills I may need to depend on to protect my family or myself from harm in a dangerous world. I chose Krav Maga based on my own research into different styles. I checked out every Krav Maga school in the greater Chicagoland area, and attended free trial lessons at all the schools that made my short list. The clear winner was Krav Maga Illinois. I've been attending now for eight months, and I'm just happy I made the right choice. It's quality instruction by quality teachers, in a solid program. I travel 30 miles in from the 'burbs to the Chicago location twice a week, and it's worth every single mile I drive.
I always wanted to learn how to defend myself and the people that I care about. I looked into different disciplines and I liked that Krav Maga incorporates real life situations.
I took my first class in 2011 and continue to take classes. It's great to learn new techniques and it's an excellent workout.
Anyone can take these courses and go at a pace you feel comfortable with. The instructors are great. They make you feel comfortable and are very encouraging.
I highly recommend Krav Maga Illinois for self defense training and encourage anyone to try it out.
I started Krav Maga just a few weeks ago and I can't get enough of the training. The staff are extremely friendly and they do a great job of adjusting the class to meet the abilities of the participants. They'll push you, but only because that's what it's going to take to improve your skills. This is truly an environment where people help each other out and work together, and there are students from all levels and age ranges. There was absolutely no pressure to join or buy anything- signing up was a very pleasant experience. As someone who has worked in gyms for many years I really appreciated this approach. All in all if you are even remotely interested in what Krav Maga Illinois offers, make an appointment for a free trial, these trainers are the real deal.
Like Us! Let Everyone Know!