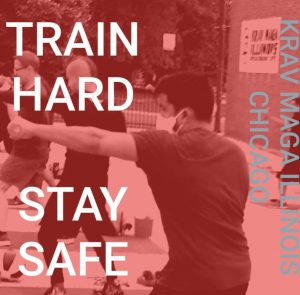 As the weather turns colder, Krav Maga Illinois is forced to go back to indoor training.  For some, this in an uncomfortable situation on many levels.  Not only are you heading into a small space, during a pandemic, but you are also working with others, while exerting yourself through intense physical activity, all while WEARING A MASK!  We know that this will only make you stronger, it has to.  You are working outside of your comfort zone! You don't like it, its uncomfortable and for some there are more reasons to hate it.  The fact is, if you want to learn to defend yourself, if you want to be safe, this is the temporary norm now, in order to stay healthy, and prepared.
A self defense encounter is not comfortable, you will not feel at ease, your breathing will increase, you will have tunnel vision, you will start to shake, your fine motor skills will diminish.  In Krav Maga training, we purposely put you in uncomfortable situations, we purposely make you work from a disadvantage so that when that time comes, you are able to deal with it and go forward with your defense.  This is the reality of reality self defense training.  You are forced to work outside of your comfort zone.  If  you think of this, then wearing a mask during training is not so bad. You cannot dictate how your self defense encounter will go, maybe you will have limited breathing.  Use this mask as a tool in your training and be thankful that we are still able to train at all.   Yes, you can stay home and learn online without this discomfort, and for some that may be the only option.  But, if you are able train, then this is a good time to push yourself beyond your comfort zone to find out what's on the other side.  What you will find is a strength and a will that you did not know you were capable of.  Our bodies can work so much harder than we think they can.  Turn your thinking around, while practicing safely and realistically.
Violence is not going away due to this pandemic.  We should not feel that we get a break from training for our lives.  We must go forward and find a way to adapt, and if wearing a mask and social distancing is the answer, than that is the way we should go.  Don't allow in person self defense training to fall to the wayside, continue to practice, but practice safely.  Krav Maga training, it is a matter of Life!!
_____________________________________________________________
Founded in 2009 by Sue Garstki, a lifetime martial artist with over 40 years of martial arts and teaching experience.  Krav Maga Illinois has served thousands of students looking for realistic self defense and awareness training, confidence, empowerment, physical fitness, and mental toughness.  Our Krav Maga Training practitioners include moms, dads, students, professionals, military personnel, law enforcement, anyone interested in protecting and improving their quality of life.  Krav Maga Illinois is a proud licensee of Krav Maga Worldwide, and is on a nationwide curriculum with over 150 KMW training facilities all over the world.
Krav Maga Illinois Krav Maga Kid's Program is for children 10 and up.  This is a program that focuses on reality self defense, anti-bullying, strength and confidence building.  It is a hands on program in a safe and supportive environment.  
All of our instructors are officially certified through Krav Maga Worldwide and USA Boxing.  They are  knowledgeable and recognized in their field of expertise. What we do is self defense, and that is clear through the level of instruction given by our talented instructors. Instructors can answer questions you may have by calling directly at 773/775-5201. You can also visit our website at KravMagaIllinois.com
About Sue Garstki: Sue Garstki is a certified Expert Level Kravmaga Worldwide Instructor, 2nd Degree Black Belt in Okinawan Shorei Goju Karate.  She has been certified in Commando Krav Maga and the Haganah/F.I.G.H.T. system. She is also a Level 4 instructor in the Raven Method Close Quarter Defensive Tactics System, having had the honor of working with the Chicago Guardian Angels. Sue was nominated Female Reality Self Defense Instructor of the Year by the Global Network of Reality Based Self Defense Systems, and Civilian Close Quarter Combat Instructor of the Year. Sue has worked with the Chicago Police Department as well as schools and other organizations spreading awareness in Self Defense, Women's Self Defense and Domestic Violence issues. In June 2013 Sue was inducted into the U.S.A. Martial Arts Hall of Fame, and again in 2015, where she was named Krav Maga Expert of the Year.  She is a certified personal trainer under NDEITA and was one of the first instructors be be certified to teach the National Association of Professional Martial Artist's (NAPMA) Kardio Karate program.  She is the founder of the Women's Martial Arts Alliance, member of the National Women's Martial Arts Federation, and the American Women's Self-Defense Association.  Sue can be reached at any time for more information or to answer any questions by calling 773/775-
5201.
The Krav Maga Illinois headquarters is at 5201 North Oketo, Chicago, Illinois 60656 773/775-5201